5 Pro Blogging Tips To Look Like A Blog Expert (even if you're a new blogger)
Before you misunderstand it, you don't have to pretend to look like an expert in blogging but you should apply actionable pro blogging tips to become an expert blogger.
You might be a new blogger, with an almost null idea in blogging, but that doesn't mean you have to look like one.
You'll find brilliant and easy to implement blogger tricks below to help you turn yourself into looking like an expert in a blogging world. 
Note: This post may contain affiliate links, which means if you buy from my link I might make a small commission. This does not affect the price you pay. See the full affiliate disclosure

 

here.
But before we dig into that, let me remind you that you don't need coding skills or mess up the CSS to carry out these not-so-secret practices to look like a master in blogging in 2021.
Disclaimer: You may find affiliate links throughout the content. I'll get a small commission when you purchase through my links (at no extra cost to you, of course), which I can use to spoil my small black German Spitz dog. 🙂
Pro blogging tips to blog like an expert blogger:
1. Self-host your blog
Let's be honest here.
Would you prefer reading a website with WordPress or Blogspot as part of the URL?
It doesn't only look amateurish, but it also seems questionable.
Aside from that, you don't entirely own your blog, and you have no control over it. If you're thinking of monetizing it with ads, you have to turn it into a self-hosted blog.
In almost three years of blogging, I have tried four hosting providers. For a year, I was with SiteGround, and I was satisfied with the service they offered me. When the hosting expired, I had to change and find good but more cost-effective hosting.
Then I found Lyrical Host, which service is equally excellent like SiteGround. What I like about it is that they also send monthly freebies, and the customer support (Joseph) helps with your blogging issues or WordPress problems.
If your current hosting expires while reading this, you can check out Lyrical Host. 
Use CLYDE10 to get a 10% discount off your first order. 
When a 12-month payment doesn't meet your budget, with Lyrical Host, you can try the hosting for six months, and the best thing is, you can try it for a month for a reasonable price.
2. Design your blog
Isn't it nice when we open a website or a blog, and an elegant look greets our eyes? 
It doesn't have to be super expensive to achieve that, especially if you're a new blogger and still testing the waters if blogging is for you. 
If that word 'designing' makes you shrink back, no worries, as I mentioned above, there's no coding required here. Some themes have an installation package for free when you buy the theme like the one I purchased on Etsy.
When you see that, take advantage of the opportunity, especially if the back-end of your blog confuses you.
Have you heard of Elementor?
If not, you're missing one of the secrets why some blogs look gorgeous. Yes, I'm not exaggerating here. You can install the free version, which allows you to modify your blog if you're not looking for more advanced features.
From time to time, I experiment with the look of my blog with the help of Elementor and Canva. I frequently use the latter for editing photos and graphics I use and for creating templates. 
CSS Hero is another tool that will save you when you don't want to mess up your theme files. You might have no idea how CSS or coding works, but CSS Hero, you would learn it, but coding skill is not a requirement while using this editor.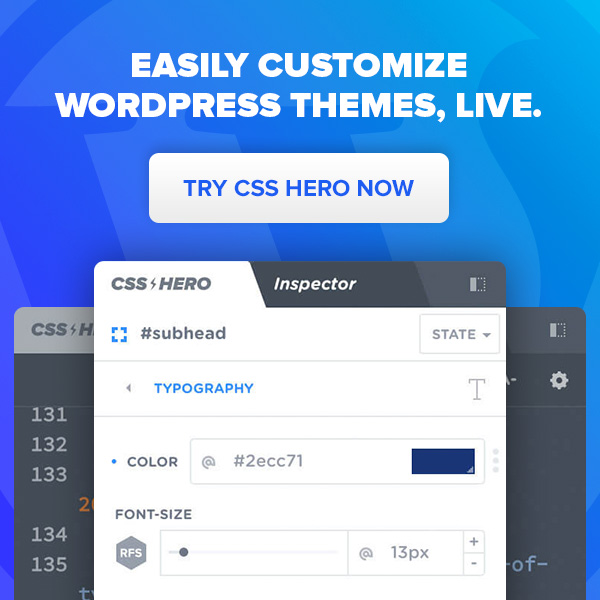 I love WordPress, especially that I self-host it, but for the love of it, I'm still learning the back-end of it.
For over two years of blogging, I'm still in that phase! At least, I know now the difference between pages and posts.
Don't be like me and wait for more years before you figure out how WordPress works. With this course, you'd look forward to blogging and discovering your site every single day.
In the past, I had to spend money for a web developer just to do some tasks then later I found out and said to myself, ''Jeez, I could have done that myself!''
Be wise and wicked, take over your WordPress like a boss now. 
Aside from Etsy, Creative Market is one of the best sources to find beautiful blog themes. If you're fond of shopping themes, you can't get enough while browsing the Creative Market. They offer a wide range of different templates from the minimalist blog theme to themes for entrepreneurs. Some themes have free installation services too. 
Loading Preview…
Powered by Creative Market
3. Secure your website
Look at the top of your website. Do you see that 'not secure' above there?
How often do you have to ignore that?
If I see that phrase when I visit a website, I often think that website wants my data. I leave immediately and delete the site from my history.
According to a study, 82% of internet users don't browse on an insecure website. 
Before Google labels your blog or website as insecure, which prevents you from increasing your traffic, secure your blog with an SSL certificate.
SSL certificates are free, and some or almost all hosting providers have free SSL certificates like SiteGround and Lyrical Host. Additionally, they help you with it or even install the certificate for you. 
APPLY CLYDE10 to avail of 10% discount on Lyrical Host
4. Install social share plugin or buttons
It happened a lot.
I used to share blog posts on articles on my social media accounts. But often, I have to manually copy and paste a post's link, especially on Twitter.
Other times, I leave these posts without the social share plugin unshared.
I find it too bad, and it's a loss for the website owners.
If you're one of these blog owners, change it now. You're missing a lot of chances here. WP Social Sharing is one of the free plugins which enables your readers to share your brilliant post. 
[bctt tweet="Apropos sharing, you can also install Better to Tweet plugin for free." username="@whatblogsher"]
Want to have graphics for your blog and social marketing? Visit this page to get customizable Pinterest graphics.
5. Post quality contents
The longer, the better. When you aim for Google to notice your posts, write longer posts like 1000-1500 words for your blog. Longer posts perform well on SEO and are more likely to get shared on social media. 
To be more effective in blogging, or to look more trusted, back your article with valuable content and not just fillers to make blogging content longer. 
Aside from writing longer posts, support your content, especially if you're writing about health, safety, and finances with reputable sources and you should see to it that it is what the readers are looking for.
Use Quora and Google Trends to look for ideas on what people are asking or searching on the Internet.
Now, you have an excellent blog post; it's time to do some prepping. Check for errors, misspelt words, and missing letters. Grammarly has been a big help to me in writing and editing my posts. You can use Grammarly for free, but if you want to have access to advanced features, it is also very affordable. 
With the premium version, you can check your content for plagiarism, which enables you to identify duplicate content. Even with your old posts, you can check for duplication, which will be favourable for you.
Duplicate content or copied content from your site might lead to low traffic or a negative SEO. Another tool that helps with editing is the Hemmingway App.
Yet, I prefer Grammarly over Hemmingway App. The latter aims for perfection and I have to cut or delete a massive number of words or phrases. I am writing for blog posts, and this often appears semi-informal. 
Blogging Tip: Install a desktop version of Grammarly to make it more accessible while writing or write directly on Grammarly and download it as a doc file. 
Although you're still new in blogging, adding keywords as early as possible doesn't hurt at all.
I use Keysearch to look for the best keywords for my blog posts. 
Best blogging books and courses I recommend learning SEO and improve blogging:
The Genius Blogger's Toolkit 
Blogging Tip: Insert keywords in the title, subheading, alt text in a photo, and at the end of the post. But avoid keyword stuffing at any rate.
More pro blogging tips you can apply in 2021
Apply space in between paragraphs and cut sentences into more sections to make it more presentable. 

Engage with your readers when they leave feedback or comment on your blog posts. 

Insert graphics like photos to make your blog post more elegant or to give it more life and support your ideas. 
Like what we often say, experiences are the best teachers. When you find blogging so overwhelming, just continue and don't quit. You will acquire more of the best blogging tips and tricks along the way as long as you don't stop blogging and learning from it.
Related posts which help you in blogging:
What I Wish I knew Before I Started to Blog +Checklist for Beginners
100+ great blog titles ideas for blogs
70+ best stock photo sites you need to improve your blog
PIN THIS FOR LATER