The Best Blogging Courses to Successfully Grow and Monetize Your Blog
Blogging courses have been total game-changers for my blog! However, I waited a very long time before deciding to invest real money into my blog and consequently spent too many years trying to bootstrap my blog by scouring the endless list of free blog posts out there… with little success.
The truth is, most of the free content I found had missing pieces and holes I just couldn't fill in on my own. And in the words of one of my biggest blogging mentors Ruth Soukup straight out of her latest course, "everything can't be free. Life doesn't work that way and business certainly doesn't, either. The sooner you start treating your blog like a business and are willing to begin investing in your future, the sooner you will start seeing results."
Note: This post may contain affiliate links, which means if you buy from my link I might make a small commission. This does not affect the price you pay. See the full affiliate disclosure

 

here.
Right between the eyes, right!
But though it can be hard to hear, it's no less true. When I finally decided that in order to grow my blog, I needed to make an investment in my blog other than the sweat equity I was already doing.
I knew my budget didn't allow for buying expensive blogging courses… in fact, I secretly cringed at the lower priced ones too. Every time I hit the purchase button, I hoped it would be worth it.
And boy was it! This list is my absolute favorite list of blogging courses… ALL FOR UNDER $100!
But these aren't just ANY blogging courses! These are the courses that work together to make your blog a thriving business! AKA, making real money. Other than creating your only products to sell, there are three other major contributing factors to making money blogging:
Each of these courses will help you do just that and have personally contributed huge gains to my blogging success in. In each section, I'll dive into the juicy details and give my honest review of each course.
If your blog isn't growing the way you know it should be, or if it's hit a plateau and you're ready to jump to the next level – you owe it to yourself to check out these courses.
**Please know that I love blogging courses, not just because I love buying courses. But because if it's a great course (and I do ALL the work) my blog grows by leaps and bounds! And yours can too. I want you to know this post was originally about my top 9 favorite courses but my list of favorites keeps growing and I keep updating this post. And just so you know, I've taken a few other courses (many high priced courses) that simply didn't make the cut and that's why these are all favorable reviews.**
If you're very new to blogging or haven't started your blog yet… you NEED to read this post first. I've also included my favorite startup courses in that post. It's basically EVERYTHING you need to start your blog!
And be sure to grab your FREE copy of this amazing Blog Planner and SEO Checklist below to make the process of creating, optimizing, promoting, and monetizing your content a breeze!
Increase Your Blog Traffic
---
Traffic Transformation
This course by Lena Gott at WhatMommyDoes is literally the second course I invested in. Once, I got my blog set up correctly and my foundation was in place, I was ready to get traffic to my site. And Traffic Transformation is a treasure trove of goodies and nuggets that you can literally go to again and again! And I really do!
Her step by step instructions in over 21 chapters of content, helps you come up with what feels like endless ways to drive traffic to your site. These were ideas I didn't find on free blog posts! Your only problem with this course will be picking which strategies to choose first. 😉
But don't worry, her down to earth approach won't leave you feeling overwhelmed, but inspired to step outside of your blogging norms and reach new traffic heights!
Take a look at my traffic spike due to the strategies Lena teaches in her course. My traffic soared and stayed up!
She also has a FREE mini-traffic course that I've also been putting to use myself! It's a great primer to get you started.
Check it out here: Blog Traffic Bonus Guide
---
Pinteresting Strategies
I literally can't say enough about this course from Carly Campbell at MommyonPurpose! This book is literally the reason you can't stop hearing about manual pinning. She did a phenomenal job of putting manual pinning on the blogging map.
Even if you aren't considering manual pinning, this book is a MUST READ because she dives deep into understanding your own google analytics. This is information that was mind-blowing. She teaches you how to identify and use your top performing pins and then how to grow them on Pinterest. You can use these strategies with your scheduler to maximize your efforts!
And she goes into so much more!
This is a snapshot of my Pinterest analytics to see how impactful this course was on my traffic coming from Pinterest! That's a surge of more than 250,000 views in just 30 days!
Yes, you can grow your pins and this strategy helps nudge your pins into viral status. It's worked for me quite a few times! Manual pinning has created very substantial increases in my Pinterest page views and clicks to my site! See my analytics to prove it!
---
Pinterest Ninjas
Let me be clear upfront, this course covers WAY more than Pinterest! In fact, it's the topics that aren't Pinterest related that urged me to take the plunge and purchase this course. Did I mention I'm super strict on my minimum blogging budget?
Megan from LoveFamilyHealth really inspired me to reach waaayyy outside my comfort zone and start my own Facebook group and my first 3 Pinterest group boards. Both are growing every day! I'm so thankful for the instruction as well as the inspiration to do the things on my "I'll do when I feel ready" list.
I finally branded my board lists (she also included cover templates!), optimized my Pinterest profile in ways I'd not heard of previously, and have already seen my blog traffic soaring. But more importantly, her course gave me the confidence to establish myself as an expert in what I already know. I've been waiting for the confidence to suddenly appear… who knew I just needed to buy this course! Lol
---
Ready, Set, Blog for Traffic!

This course from Elna Cain from TwinsMommy is one that I was on the fence about. Not that I didn't think it was a great course, but I assumed it was a beginners course. Boy was I wrong! I finally took a closer look at RSBT when I started researching SEO more and using a lot of keyword research. The funny thing is, I kept seeing her posts on the 1st page of google for the keywords I was searching!
I was like… really!? In fact, she was quoted by Neil Patel in one of his blog posts (Crazy!) and I actually saw her outrank him by 2 pages on google for another post I was searching for! That's legit! So, I decided to not let the jealousy bug bite me and take a closer look at her course.
I quickly stopped researching and bought the course. I can say that I'm impressed and not at all disappointed. She goes deep into the concepts she uses to get quality backlinks and get accepted for guest posts and podcast interviews, and how she consistently gets on page 1 of Google for her many blogs WITHOUT obsessing about keywords, and so much more! And the best part is, Elna has just completly updated this course with more modules on SEO and Pinterest!!
Grow Your Email List
---
List Building 101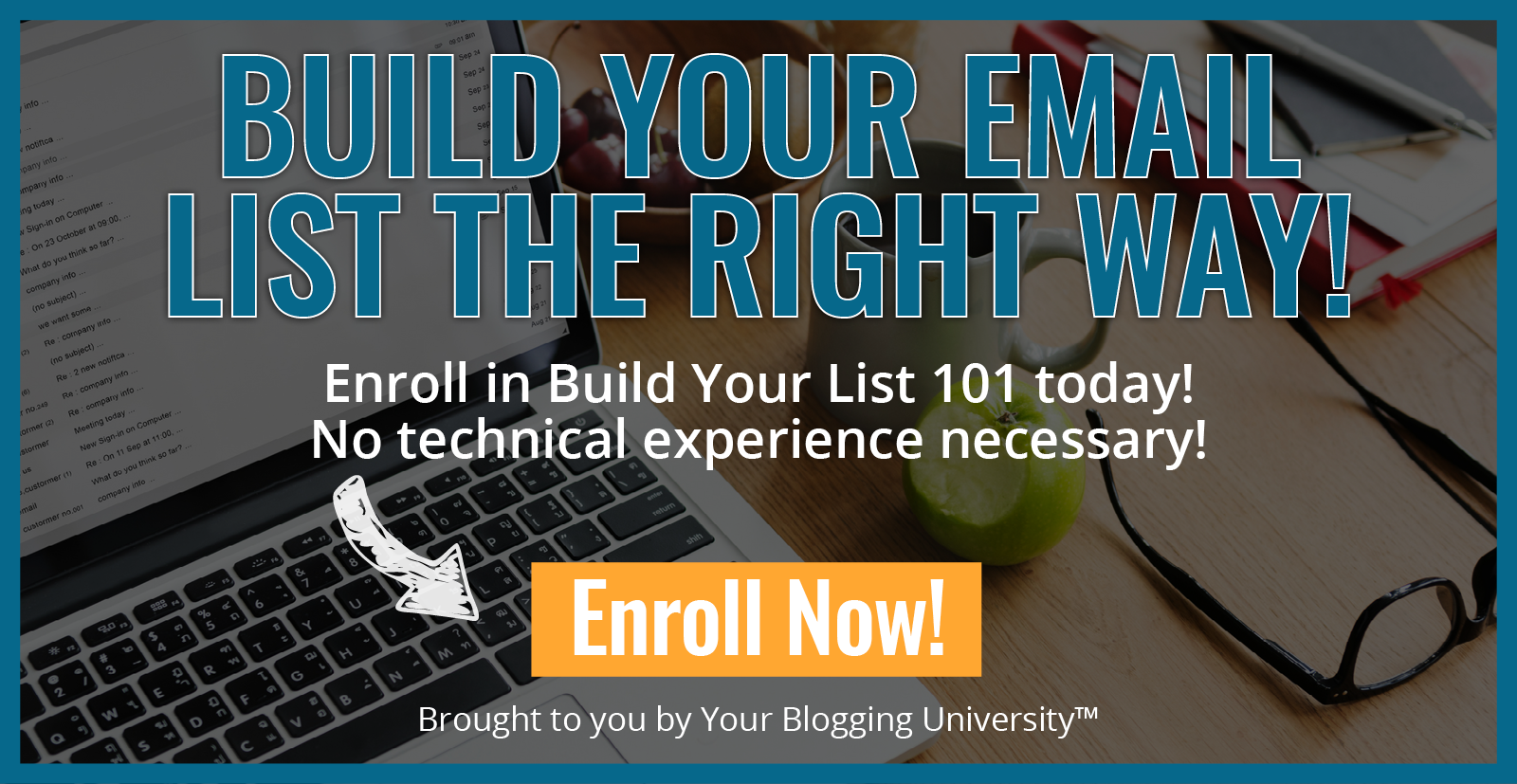 Crystal Paine's Build Your List 101 gives you the step by step instruction on how to build, grow, and nurture your email list the simple way. Her videos and teaching resources are so easy to understand and simple to follow. She covers how to set up your email list funnels and actually walks you through how to visually map out your funnel. I didn't know how to do this before seeing it in this course!
You'll also learn how to create helpful and beautifully designed checklists, printables, and even e-books to offer as freebies to grow your email list. And no, you don't have to have a ton of skills or talent with design. Everything is super easy!
I personally took this course and she doesn't leave a single thing out, including the best way to stay in regulation with the new GDPR data collection laws. That part alone was so helpful!
Get More Information on Build Your List 101 here!
---
Inbox Invitation
Sarah from EaryBirdMom created Inbox Invitation which was an answer to my prayers… literally! Email was a huge struggle for me.
Are you growing your email list, but now don't know what the heck to email your list? Are you scared you'll get no opens, responses, or even tons of unsubscribes?
If so, you need this course! It's so affordable but way more valuable because she goes into why unsubscribes are a good thing, what to email your list, how often you should email your list, and how to sell to your list without sounding spammy or too salesy.
You can even add on her email swipe file to the course to make it easy and seamless. Never procrastinate on sending your list a value-packed email at least once per week to keep your list happy and engaged!
After using her strategies I gain the courage to email my list more frequently, my open rates increased, I finally got email responses from my subscribers, and best of all I got my first affiliate commission 2 weeks after starting her process!!
Master Affiliate Marketing
---
Pin to Profits – Affiliate Marketing
If you're ready to start monetizing your blog, Pin to Profits is a very in-depth course to help you get there quickly! McKinzie at MomsMakeCents walks you through every single detail of how to use Pinterest to make money with affiliate marketing. I personally feel this course is perfect for both beginners of affiliate marketing and seasoned pros who haven't tapped into using Pinterest to promote their affiliate products.
She teaches on everything from setting up your boards to maximize your pins' exposure, how to create and brand your pins, how to find and choose the right affiliate networks for you, and how to add the links properly to your pins.
She provides an extensive list of affiliate networks for different niches, product ideas, how to best promote your pins, and even a bonus of pin templates to get started! That's everything you need to start making money with Pinterest today!
Just note that since I purchased this course, she's since expanded and added even more courses to add to making money on Pinterest.
---
Affiliate Acceleration
This affiliate marketing course by Kaylee Aimee was my first actual course dedicated to affiliate marketing and I was blown away. Honestly, this course is WAY underpriced! I knew a lot about affiliate marketing before I took her course but learned so many techniques that I hadn't seen before. And that was really impressive.
If you're new to affiliate marketing and feel like Making Sense of Affiliate Marketing (a very popular AF course) is too expensive, you will love this course! Kaylee teaches most of the lessons in a video tutorial format and her personality is very sweet and fun so you won't get bored during the lessons. And you'll be excited, motivated, and properly informed to start making money with your blog today!
Check out Affiliate Acceleration here!
---
A Word of Caution BEFORE Buying ANY Blogging Course!
Your blogging success CANNOT be guaranteed by using any blogging course. No matter how big, expensive, or popular the course may be. You must go into each course with a teachable mindset.
That means you take the student position and humble yourself (no matter how much you know now) to learn everything you can from that blogger and their course. In reality, some courses are going to be game-changers (like this list!) and some will be a disappointment.
The key to my success was taking FAST ACTION on ALL the assignments and suggestions made in each course. Like, immediate action!
Even the ones that TERRIFIED me. Sometimes, a course is less about the information and more about the encouragement and inspiration to take a leap! And you'll be so glad you did.
My advice is to NOT buy ANY courses if you're not ready and willing to go all-in with the course. If not, it'll be a complete waste of your time and money.
In the words of Nike… JUST DO IT! 😉
Each of these courses were game-changers for my blog. And the best thing is, they are all unique and met the needs for different areas of my blog. It's amazing how there was very little knowledge overlap with this courses.
If you're ready to level up your blog game and spring clean your old blog education for some fresh new courses, these courses are for you. The best part is you'll spend way less than the cost of a latte per day!